This week I am trying out a new format that is partly readable and partly skimmable. Hit reply and let me know what you prefer!
---
📺 The Binge-Watch
What's Cool? Roadtrip 🎶
Hanging out together, alone in this Clubhouse meets Spotify (but really it's own thing!)
This past weekend, I got an invite for Roadtrip, a new invite-only app from Matt Mazzeo and Brian Wagner.
Here's why it's cool. Individual audio rooms - you control the music in your room and you can request music in other people's rooms. Seamless audio-only rooms means it feels natural to just hangout, listen to music and chat. In Roadtrip, there is no awkward silence - the music fills the room (with some clever audio modulation) whenever there is a break in the conversation.
Music Discovery - Discovering new music in a social context is fun! Join other people's rooms to chat and discover new music through their playlists.

Social Discovery - While this might get very crowded at scale, its super fun to wander the halls of Roadtrip to find rooms where cool music is being played. Join the room and organically meet the DJ.

Feels more natural than a phone call - Because of this app I have reconnected with 5 close friends in the last three days alone. It feels weird to be in a phone call for too long. Feels like you need to have an agenda. We just hopped into a room on Roadtrip, chatted, jammed out to music and it felt like how we hung out in college.

Topical discussions, panels, Q&A - There are two 'tiers' of room participation. You can be a speaker or audience. This lends itself to a variety of different content formats which could drive audio-only events (can we get earnings reports on Roadtrip pls?)

Always On - The biggest friction for any app is "how can we get the user to open it". Roadtrip is an app that can be always on. When I am working, I am jamming to music in a public room. A friend hops on, joins the room and we chat and work together while listening to music. Wanna do deep work? Switch room to private and keep working. Done with work? Join friends' rooms and chat late into the night.

Entire ecosystem wins - By forcing users to have Spotify premium, Roadtrip is creating a win-win situation. Spotify is happy because Roadtrip will drive subscriptions. Artists are happy because they get paid when their music is streamed in a room on Roadtrip. Roadtrip wins when artists hop on Roadtrip to blast their music. Also the last iteration of this social listening concept, Turntable FM was sued into oblivion and Roadtrip will happily sidestep such legal issues.
Intrigued? Message me on Twitter @itsparaj and I will invite you and we can hangout in the app.
Unbundling of Zoom
Zoom recently released their Q1 earnings and they did even better than expected.
$328M in revenue

Up 169% from year before

$0.2 adjusted profit/share
Obviously, if a company is doing well - every person is scheming to launch a competing startup. So where's the chink in Zoom's armor?
Zoom is being used for everything right now - family get togethers, drinking trivia nights with friends, math lessons, board meetings, music and comedy performances, and even producing television shows. Here's the rub - for some use cases, it is overkill, for others it is inadequate, and for even more it has to be hacked to make it work.
For example, Zoom kinda sucks for education. The Q&A feature doesn't jive with a classroom setting. Engaging students and interacting with them is uninspiring and feels forced.
Use cases aside, there is also tremendous functionality that that core Zoom product lacks. What started as a corporate video chat product has somehow entered consumer mainstream (thanks COVID). But once it enters the world of media and entertainment, it needs more tools to augment the performer - participant interaction. Monetization through ticketing and donations is key for creators and Zoom's current offering is inadequate. So people are building 3rd party monetization tools to make Zoom work. My prediction? In the next 2 years, at least 5 vertical video chat startups breakout into the mainstream.
Love unbundling? More on Zoom unbundling in this great post.
What the most burning use case you think exists for a new startup to unbundle Zoom? Tweet me here and tell me what you think. I will collect all the responses and make a thread!
Catch 22 for Couch Potatoes Worldwide
☕ Suitman Co-Conspirators Bite the Dust
ICYMI, Wondery tried to poach Call Her Daddy away from Barstool in the middle of their two year contract. Obviously Barstool is pissed. But look's like they get the last laugh - having officially taken over Wondery in podcast downloads and monthly unique audience.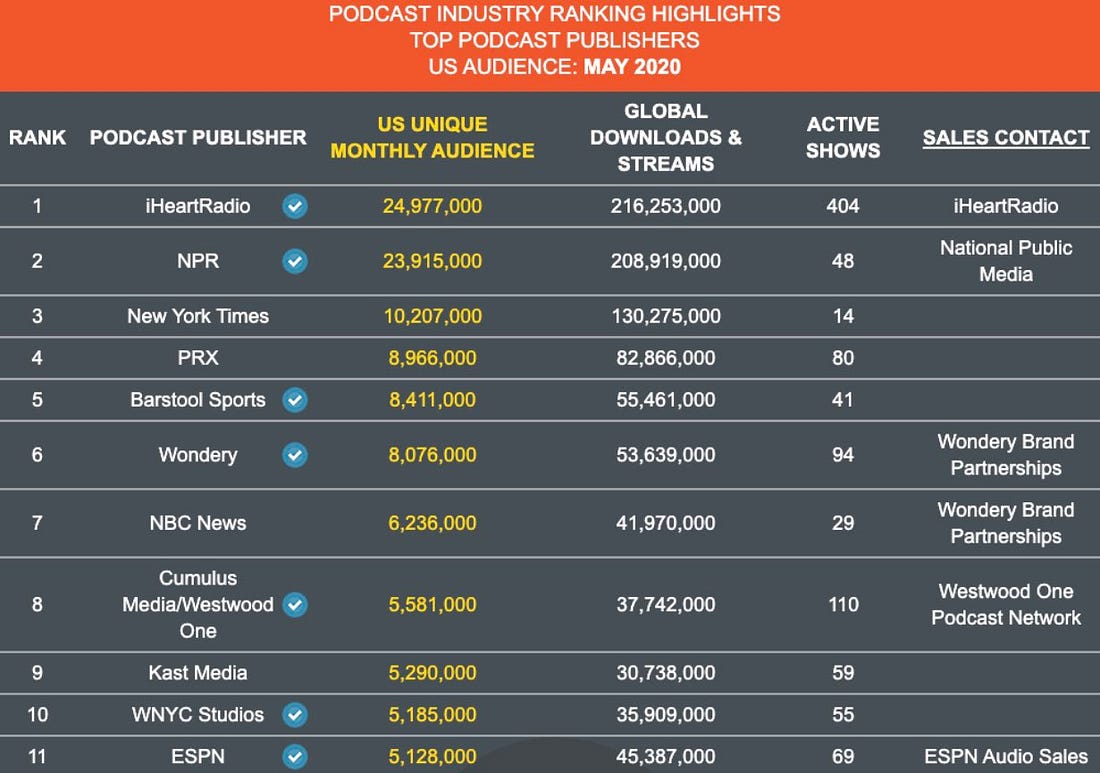 Potato Wedges 🍟
1️⃣ No one is going to the movies in corona szn. But what if movie theaters reinvented themselves to look like apple stores?
2️⃣ The next wave of media cos aren't selling ads or subscriptions…they are selling talent.
3️⃣ Super duper deep dive on HBO Max
4️⃣ ByteDance Company Culture Thread
5️⃣ This 90-year old gamer grandma. Wow.
📢 Share Couch Potato
---
I found this unbelievably amazing deal to support racial justice and equality while also scratching your video game itch. Just $5 helps! Raised over $2,000,000 already.
see ya,
Paraj, your Couch Potato-in-Chief