CP #3 Gamified Consumption
Everybody gets Potato Points just for reading this newsletter
We are now being incentivized to be couch potatoes and I am LOVING it!
Twitch recently launched the concept of "channel points". You get 10 points every 5 minutes of watching a channel. While in its infancy, it reveals an interesting phenomenon - gamifying consumption. The more I watch, the more channel points I get. I can then redeem those channel points for some rewards like highlighted messages in chat. Here's why this is noteworthy.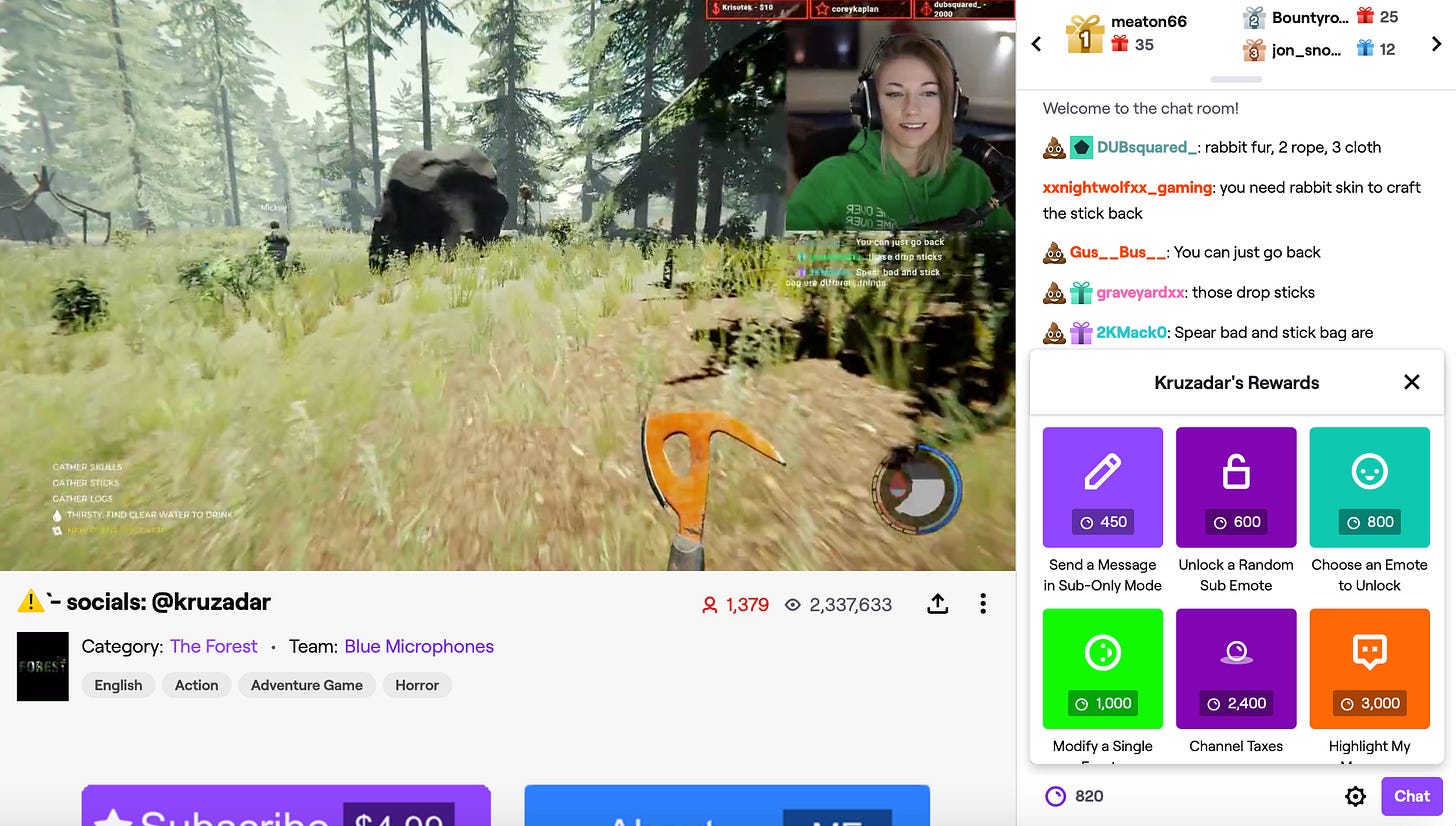 These incentives are adding a layer of gamification on top of our content consumption. This is like if Netflix revealed watch hours and then said "For every 100 watch hours, you get a Netflix Originals T-shirt". If I am at 96 hours, I would definitely watch a few more episodes of some shitty Netflix show so I can get a Money Heist T-Shirt.
Now while Twitch is taking baby steps, Riot Games is running with this concept. Mere mortals like you and me can only get beta access to their newest game Valorant, by watching popular streamers stream the game. The more we watch, the higher our odds or randomly getting a beta key. Here's how it works: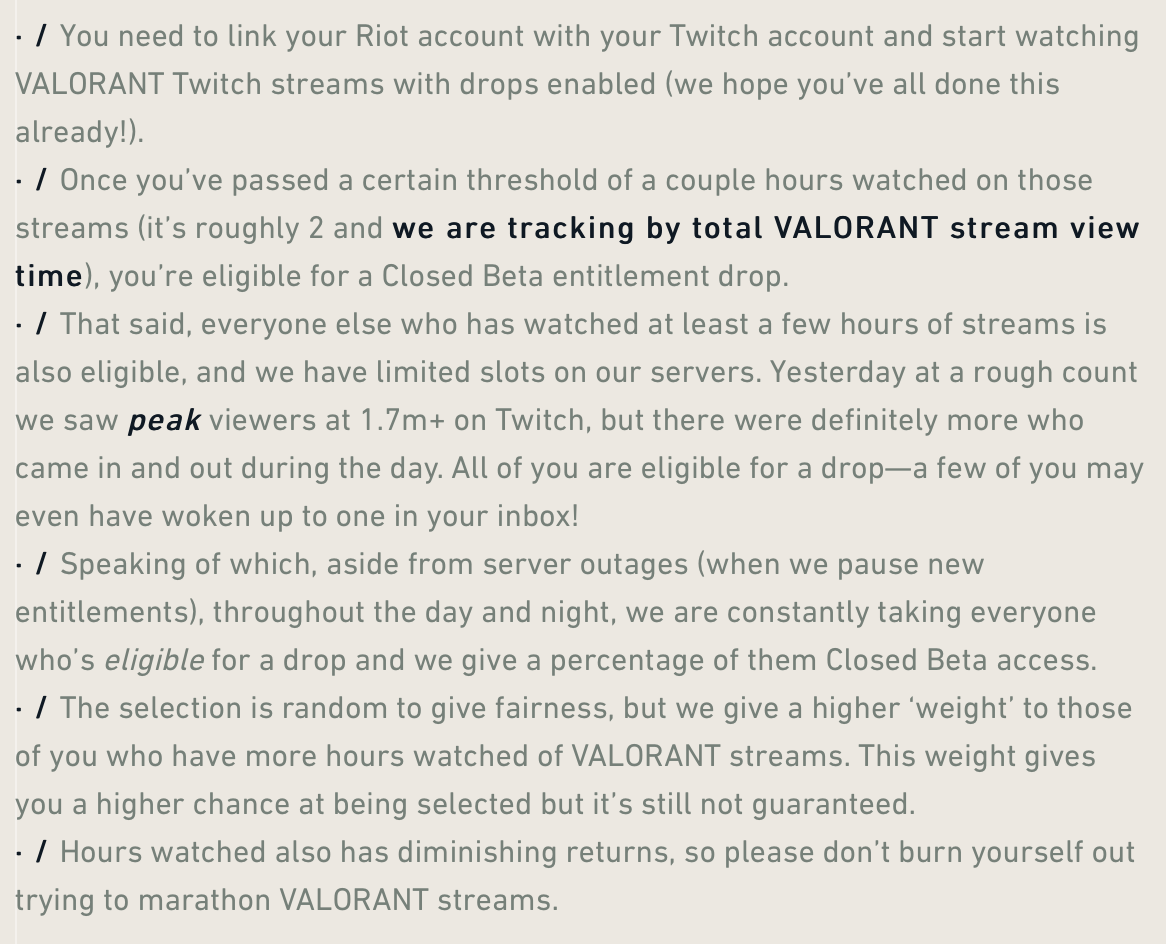 This is smart for Riot on two levels. Level 1 - the game is being widely streamed and heavily watched as people try to get their hands on beta keys. As a result, viewership is through the roof, Valorant is the number 1 game on Twitch with over 400k viewers as I am writing this. Level 2 - players are spending at least 2 hours watching the game so not only are they invested in the game (because they had to 'earn' it), but also they are learning game mechanics as they watch. The better they can get at the game early, the less likely they are to get frustrated and quit playing. Riot I want to kiss your brain.
SVOD needs to learn this and implement it asap. Of all of them, Quibi needs it the most. It is hardest to stop watching any episode in the middle of an episode. Its a little easier to quit between episodes, which is why Netflix likes to autoplay the next episode immediately (sometimes pausing to check if you have died from inactivity). Quibi is in a tough spot, episodes are way shorter, between 7 and 15 mins - means users are in danger of quitting the app atleast 4 times per hour. Assuming watch time is an important metric for Quibi (outside of subscriptions), the numbers are likely to fall way short of their competition.
Here's my suggestion - add gamification to Quibi. Integrate rewards for watch time, and series completion. Add badges and rewards, and add a layer of social points into the app. For every 30 minutes watched you get 50 points. For 7500 points you can redeem a Punk'd T-shirt. First 500 people to complete a season get special stickers. Let the gamification help you identify your biggest fans and power users. Quibi isn't winning the content war right now, but it can still win the engagement war.
Alright, I gotta get back to watching these 24x7 Valorant streams, man I am really working busting my ass watching Twitch but I haven't gotten a Valorant key yet. I am going to persevere until I finally get a key, play the game twice, and realize I will never be good enough.
Potato Wedges
Creator Highlight
I am going to use this section to highlight one content creator per edition whose content Couch Potatoes around the world are digging.
Today's highlight is Muaaz. His educational channel is a must-watch if you are interested in becoming a content creator. His tutorials include high level stuff like "How to start a YouTube channel for free" to more granular stuff like audio and video settings for when you stream - his channel is my go-to whenever I setup a new A/V setup. Plus, his growth has been incredibly inspirational and an example of pure grit and grind.
Who is your favorite creator? Hit reply and tell me who I should check out!
---
Couch Potato is a weeklyish newsletter by Paraj Mathur. You can support the newsletter by inviting your friends to be couch potatoes with you! Please share this post!