CP #2 How Can Athletes and Sports Brands Monetize Live-streaming
🤯🤯🤯
Recently I was in a meeting with a major sports league, telling them about how Twitch streamers make money and this is what happened - 🤯🤯🤯.
The conventional way of making money is exchanging goods and services for money. I will sell you a wallet for cash. If you don't pay me money, I don't give you the wallet. Similarly, Netflix (free trial aside), charges you a monthly subscription fee. If you keep paying the fee, you can keep accessing the content. The day you stop paying, you lose access to the content.
The live-streaming' 'Digital Patronage' model is fundamentally different from the above models. Here is how it works -
The streamer puts out live content regularly on their Twitch/Mixer/Youtube channel for free. This means that anyone can watch their livestreams without even logging in. There is no paywall, and in most cases, no restriction on the viewer's ability to watch and participate in the chat. What a deal, right?!
On top of this content, platforms have layered in monthly subscriptions. On Twitch, you can subscribe for $4.99, $9.99, and $24.99 per month to any eligible streamer of your choice (and as many of them as you would like). Again, you don't need to subscribe to watch their content.
So what do you get for subscribing?!
This is where streamers are decades ahead of brands, athletes, and sporting leagues. Content creators have layered in subscriber perks to activate their biggest fans by incentivizing them to subscribe to their channel. Here are some examples of sub benefits:
Twitch name flashes on screen + shoutout from streamer

Special emotes, badges, and access to sub-only discord channels

Sub-only giveaways or increased odds in general giveaways

Ability to play with the streamer periodically or participate in chat gaming tournaments

15% off streamer merchandise
By layering in subscriber benefits, some of which are intangible and have zero marginal cost to the streamer, content creators are able to create an attractive package for viewers. Interestingly enough, most subscribers aren't paying for the content itself, but for things like - getting a shoutout from the streamer, emotes they can only use on Twitch, and a one a million chance of playing Fortnite with them.
This reminds of this amazing article about 1,000 true fans from 2008. Streamers are giving away their core content away for free and making all their money from the monetization of their hardcore fans. In addition to subscriptions, it is common for content creators to sell merchandise and get sponsorships, as well.
So how can athletes and sports brands take advantage of this?
Athletes and sports brands/leagues start with a massive advantage - star power. Most streamers spend years building their audience to reach a point where they have a 1,000 true fans who are willing to spend money.
With a large built in audience, athletes and sports brands (ASB for short from now on) simply have to create this new channel to activate their biggest fans in a time like this, where their normal channels of fan engagement and revenue have been wiped out.
Here's how I would start - ASB's start with regular live content focused on their biggest personalities. This content should be free and should revolve around giving their fans (old and new) increased access to star athletes. Highlight their off-field personalities, let the fans build a personal connection to the players, beyond simply their athletic ability. Once you have attention, the key is to build an attractive subscription package for the most die-hard fans. This is what a sample package might look like: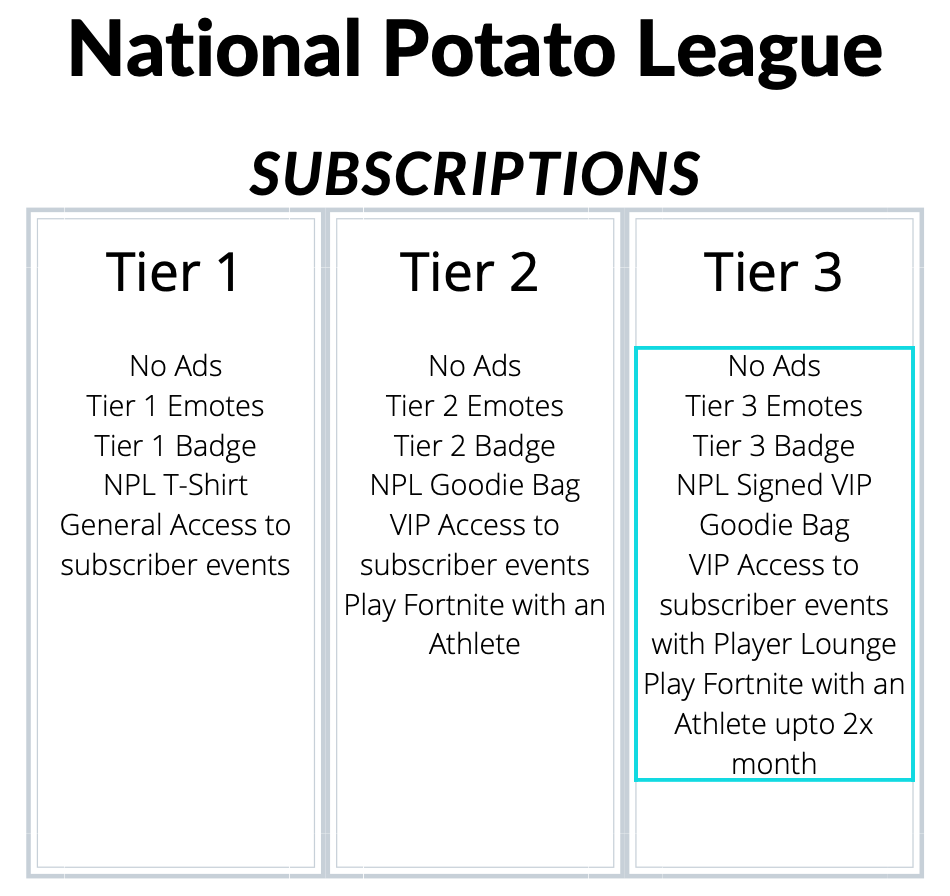 If you aren't convinced this works - here is a snapshot of the number of paid subscribers for the top Twitch streamers, do the math if you want some mind boggling numbers…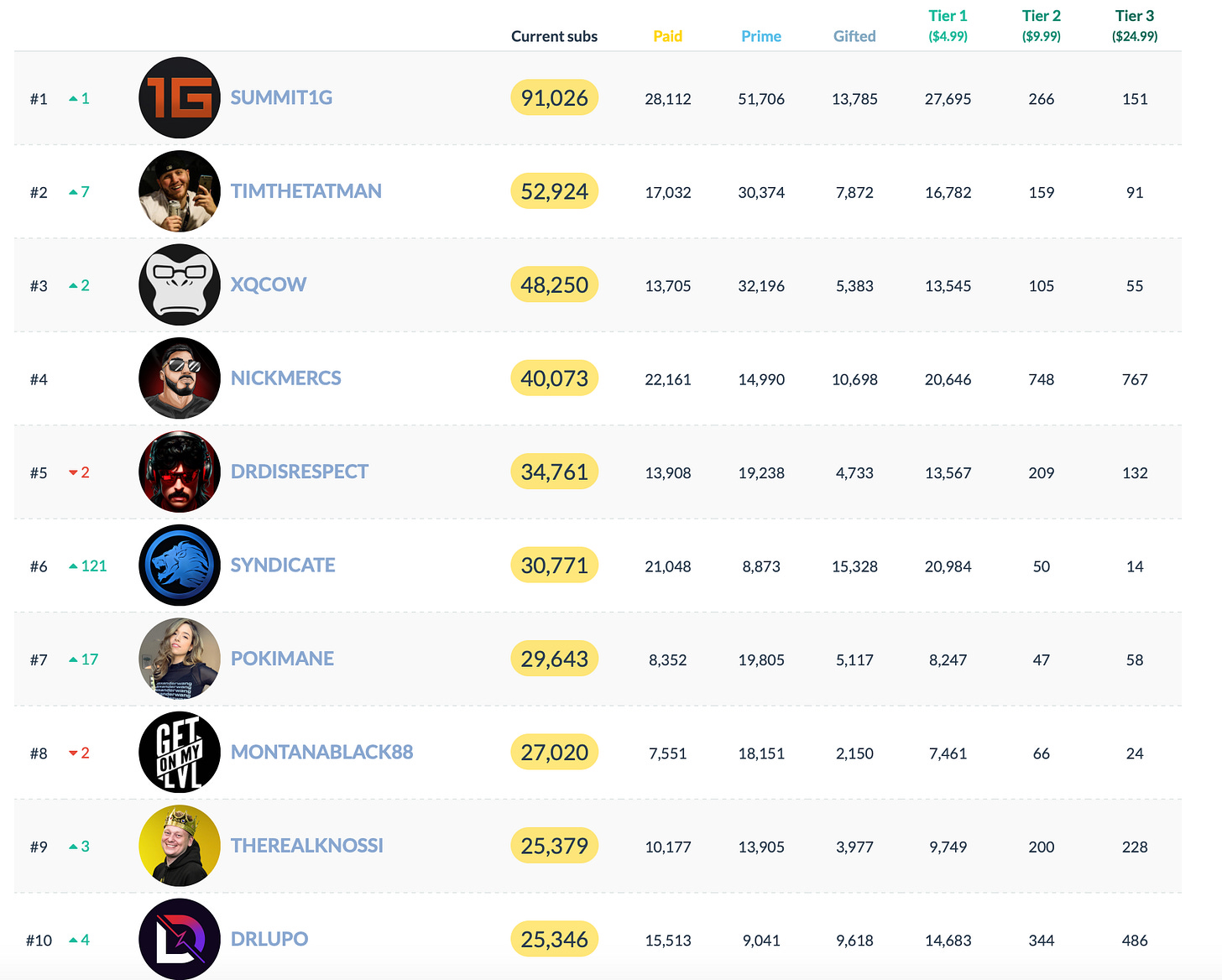 If PotatoFC has 3000 die-hard fans who pay 4.99/mo to subscribe to our Twitch, we get ~$3/sub/month which is an additional $108k/year. This does not include the monetization of newly unlocked sponsorship and ad inventory or merchandise sales. Those can lead to additional revenue spurred by the fan engagement or your subscription package (if it includes early access merchandise or discount codes).
In conclusion, sports leagues and athletes are sleeping on live-streaming as a fan engagement and monetization channel. Whoever can crack the live-streaming code will unlock a ton of new value especially in a difficult time like now. Hit me up on Twitter if I can help!
Potato Wedges
Creator Highlight
I am going to use this section to highlight one content creator per edition whose content Couch Potatoes around the world are digging.
I have to start this segment with my favorite Twitch streamer - Los Pollos TV (Louis Sammartino). He is a variety streamer who recently broke the Guinness World Record for the longest continuous live stream with an insane stream duration of 195:36:17. He also hit the 10k subscriber mark in the process to go along with his 400k+ Twitch followers. His content is especially unique because his interactions with his chat are particularly hilarious. When not raging at his chat, he plays Fortnite and NBA2K, watches videos, and promises to have a six pack by summer (for the last 3 summers). I am a tier 3 sub and have been a part of his community for over 3 years and I highly recommend tuning in.
Who is your favorite creator? Hit reply and tell me who I should check out!
---
Couch Potato is a weeklyish newsletter by Paraj Mathur. You can support the newsletter by inviting your friends to be couch potatoes with you!